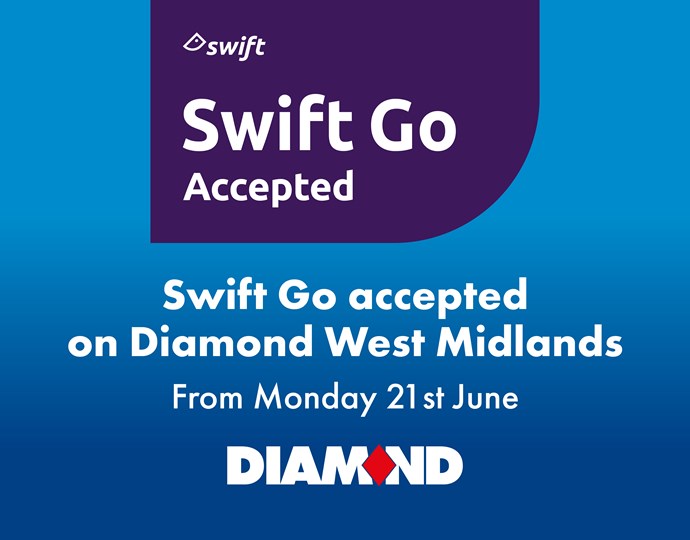 New Swift Go flexible fares available on Diamond Services
17 June 2021
Diamond are pleased to announce that from Monday 21st June we will be accepting Swift Go products on our services in the West Midlands region.
Swift Go is a 'Fare Capping' payment scheme using the Swift Smart Card system. To travel you simply tap your Swift card (pre-loaded with the Swift Go product) on the reader when you board,  you can make as many journeys as you like and at the end of each day, The Swift Go fares engine will check what journeys you've made and work out the best price to charge you.
There will be fare caps for Single tickets, day tickets and week tickets for both Diamond journeys and multi-operator journeys - so if you only tap on a Diamond Bus you will only pay the Diamond Bus rate and if you travel on multiple operators you will be charged the nBus price.
Swift Go will launch on our services with Adult Single, Day and Week ticket rates for Diamond West Midlands, Sandwell & Dudley and a Walsall Low Fare Zone fare cap, Plus some nBus day cap options too. We're planning to launch more fare cap options on Swift Go soon.
You can find out more about Swift Go and apply for your Swift card at the Transport for West Midlands website here
For customers who live in our Worcestershire and other county regions, we will also be launching our own Diamond fare capping system in the near future, so that more customers can benefit from this new flexible ticketing technology. So watch this space for updates!


Swift Go Fare Caps Available on Diamond services from 21st June 2021:
Diamond West Midlands
Single
£2.40
Diamond West Midlands
Day
£3.80
Diamond West Midlands
Week
£14.00
 
 
 
Diamond Sandwell & Dudley
Day
£2.85

Diamond Sandwell & Dudley

Week
£10.50
 
 
 
Diamond Walsall
Day
£3.20
Diamond Walsall
Week
£11.60
 
 
 
nBus Regional Peak
Day
£4.80
nBus

Regional 

Off-Peak
Day
£4.20

nBus

Regional Bus+Metro Peak

Day
£6.80

nBus

Regional Bus+Metro Off-Peak

Day
£5.90
nBus Sandwell & Dudley
Day
£3.20
nBus Walsall
Day
£3.20