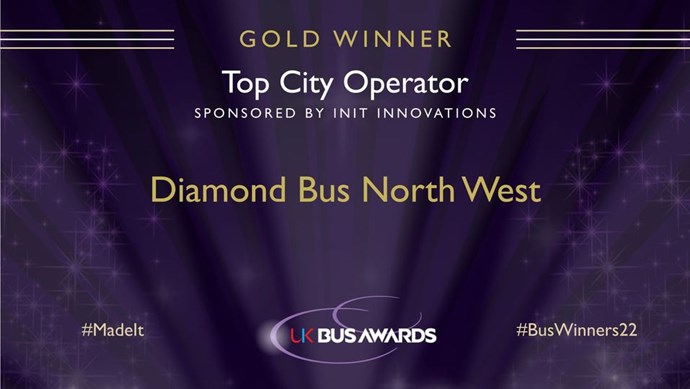 UK BUS AWARDS 22 WINNERS ANNOUNCED
29 November 2022
On the 15th of November 2022 Diamond Bus North West attended the UK Bus Awards at the Troxy in London.
After a beautiful Lunch we sat ready for the awards to be announced in which we were finalists in. Unfortunately, we were not placed in the top 3 of some of the awards due to some very worthy entrants.
However, the night got off to a good start when our very own Steph Smith was highly commended for the Unsung Hero award. Well Done, Steph. 
Then came the Engineer of the Year category where we had Mick Branigan our Head of Engineering for the North West outfit scooping the Bronze Award in this category. Well Done, Mick.
Next came the one that we were all as a company waiting for, Top City Operator of the Year, We are proud to announce we were named winners! We beat off all other competition to win Gold, 
How have we done it?
At Diamond Bus North West in the last year alone, we've positioned ourselves with simple fares, a reliable service, and routes spanning across Greater Manchester. We pride ourselves on the fact that 'we're on our journey to everyday greatness'. Daily we operate over 200 buses from two depots in Greater Manchester, connecting towns and cities across the region. 
Our drivers are at the forefront of everything we do, every driver plays a key part for the passengers that they carry. They are trained in great customer services and know how to handle a situation if one presents itself to them.  
We'd completed our investment adding more than 120 new vehicles to our fleet and it's now 100% compliant to Euro 6 standards. This allows us to provide towns like Bolton, Bury & Wigan and cities such as Manchester and Salford with one of the youngest fleets in the country. We're doing our bit to create a greener environment. 
Having a modern fleet encouraged us to look at the way we recruit for the future leading us to engaging with Bolton College and Total People based in Wythenshawe where we've engaged 4 apprentices for our engineering department, we see this as the start of our partnership with our local school leavers in turn providing employment opportunities to our local community. 
Customer Services are also on hand to answer queries Monday to Friday. 
We internally setup for our Customer Service department a system called Freshdesk which is a cloud-based customer service software providing all smart automations that get things done faster. This software has reporting systems in which we can see how many enquiries are dealt with on a day-by-day basis. 
We created partnerships with Southeast Lancashire Community Rail Partnership we're providing a new service that runs on a Sunday and Bank Holidays from Horwich Park Way Railway Station to Rivington to get the community out to enjoy the local area.
After winning Top City Operator of the Year, we were automatically placed into the category of Top Bus Operator of the Year against the Top Independent Bus Operator and Top Shire Bus Operator, We can proudly announce that we collected Silver Prize meaning we were crowned 2nd Best Operator in the UK.
Matthew Rawlinson Deputy Managing Director Says:
This means so much to me, the company and all our staff, like I've said previously 3 years ago Diamond Bus North West took over our Bolton Depot and we had our work cut out, we were slightly behind

 

the pace of other operators, I went to an awards ceremony in 2019 and thought we've a lot of work to do ahead of us before we can get up on that stage, We've contended with the pandemic and pushed so far forward with every aspect of our business that these awards show just how far we have come as a company in the 3 years, every member of staff should be so proud of themselves for working so hard to get us to this position, well done to all our team.
Bob Dunn Managing Director Says:
This Year we have been named Company of the Year at the Build Back Bolton Awards 22 and now we have been named Top City Operator and 2nd best Bus Operator in the UK at the UK Bus Awards. 
This is an award I am very proud we as a company have won, this shows the commitment we have made to the Greater Manchester area. We will undoubtably push forward on these awards and into

 

next year as we strive on our journey to everyday greatness.
It's times like these that make me realise that we are on our journey to everyday greatness and I'm proud

 

of the hard work that all my employees put in to be recognised.