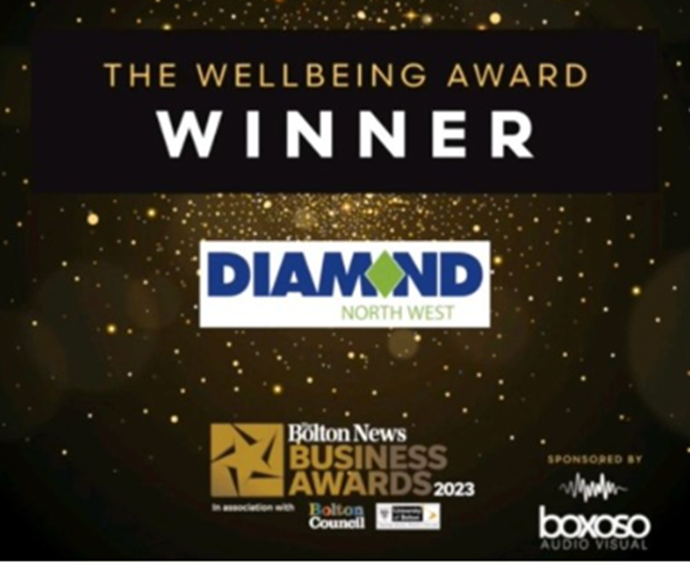 Wellbeing Award Winners at the Bolton News Awards 23
25 September 2023
On the evening of the 21st September 2023, employees of Diamond Bus North West attended the Bolton News Awards 2023.
Diamond Bus North West who were winners of the Company of the year award in 2022, were named finalist this year for both Company of the year award and the Wellbeing Award for 2023.
Diamond Bus North West missed out on being named Company of the Year, however the night was not a disappointment as Diamond Bus North West were announced the winners of the Wellbeing Award.
What is the wellbeing award? The Wellbeing Award focuses on how a company recognises and champions the incredible steps taken to create an environment for their employees to succeed and gain job satisfaction.
In June 2023 Diamond Bus North West gained recognition by becoming the first Bus operator in Greater Manchester to be awarded membership status with the Greater Manchester Good Employment Charter.
This is a scheme in Greater Manchester that is working to improve employment standards across the region. The Charter Criteria offers secure work, flexible work, pay, engagement and voice, recruitment, people management and health and wellbeing.
What does this mean for Diamond Bus North West? This means all Employees are paid the
Real Living Wage standard or above. We offer secure work however most importantly for our staff, being part of the charter means our staff have a voice and the engagement between them and senior management is there.
The Wellbeing award is an award that Diamond Bus is proud to receive. It demonstrates the commitment to our people agenda and employee engagement strategy. Employees are at the heart of our Diamond Bus North West business.
Emma Woods, Group Head of HR, says: "Winning the Wellbeing Award at the Bolton News Awards 2023 is a real achievement and builds on a fantastic year for the company. I am delighted that we have been recognised for all our efforts to create/provide an exceptional environment for our employees. I am looking forward to continuing building on the last 12 months achievements and will continue to focus on our People agenda and driving forward Employee Engagement."