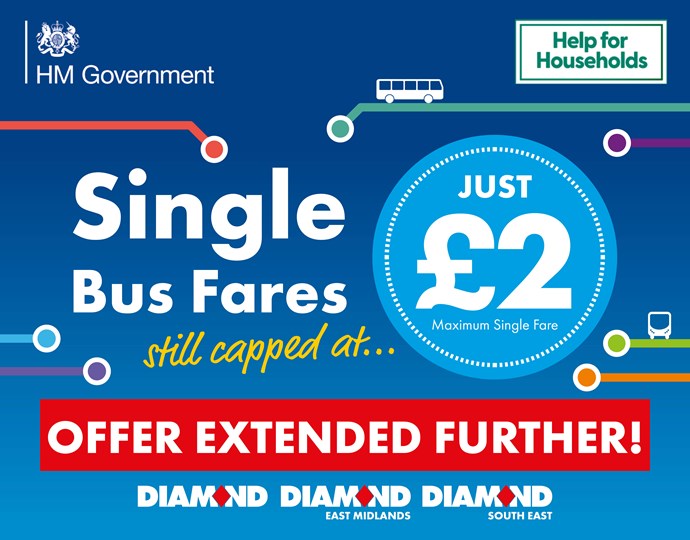 £2 Fare Cap Offer Extended Further!!!
23 October 2023
West Midlands
South East
Derbyshire
Leicestershire
Shropshire
Staffordshire
Surrey
Warwickshire
Worcestershire
Diamond Bus are pleased to announce that we will be continuing to take part in the Government funded £2 Fare Cap Scheme after 31st October.
This means that single bus fares on eligible services will continue to be no more than £2 per trip!
Whether your use the bus for work, shopping or leisure, you can continue to make a single journey on the majority* of Diamond services, and not pay more than £2. 
Extra services added to a West Midlands Scheme!
A number of services which were previously not eligible have now been added to the £2 Fare Cap Scheme, so you can now benefit from lower Single fares on these routes too!
Don't worry if your single fare is usualy less than £2, it will stay the same price! You can buy our new £2 single ticket on board from your friendly driver using cash, contactless payment or Apple/Google Pay. It's that simple!
If you are a regular traveller, intend to make a number of journeys during your day or are travelling in a family/group, you may find that our range of day, week & month tickets offer even greater value. Visit our tickets pages for more information on our full ticket range.
*Under the Government scheme parameters, some services are not eligible to be part of the scheme. Some dedicated school services and services that only run on school days are also excluded from the scheme from 31st October 2023. Services that are NOT included from 31st October are listed below. 

£2 Fare Scheme Terms & Conditions:
This offer covers the majority* of services for Diamond Bus across the following Counties: West Midlands County, Shropshire, Warwickshire & Worcestershire. For Diamond East Midlands Services across the following counties: Staffordshire, Derbyshire & Leicestershire. For Diamond South East: Surrey. Offer does not extend to Diamond North West services who are currently partaking in the Greater Manchester Fare Scheme. £2 Single tickets are valid for one single journey only on the service purchased on.
Service Exceptions:
Diamond East Midlands Excluded Services: 009, 19A, 322, Florette Staff Services, 831, 801, 802, 805, 806, 807, 808, 809, 810, 811, 812, 817, 818, 819, 821, 822, 825, 826, 827, 829, 322, 213.
Diamond West Midlands & Worcestershire Excluded Services: B1, R1, Bewdley Shuttle, Bromsgrove on Demand, N1, N2, R1, 500, 502, 828, 829, 302, S77.
Diamond South East Excluded Services: 459, 710, BL1, BL2, H21, H30, N30, RHU
The Bus Fare Cap Grant scheme is a Government funded scheme and part of the Help for Household campaign.