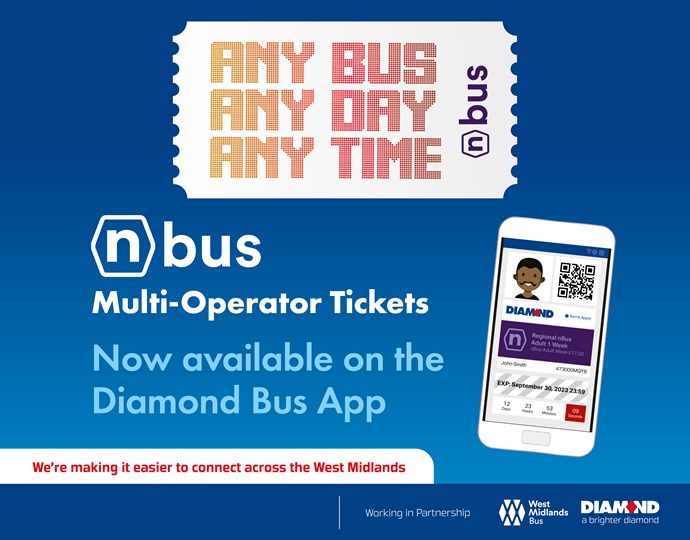 nBus now available on the Diamond Bus App
28 June 2023
Diamond Bus are pleased to announce that from Monday 3rd July, nBus - the West Midlands Multi-Operator ticket will be available to buy on the Diamond Bus App.
*UPDATE* nBus Day Tickets now also available on the Diamond Bus App.... Our range of nBus m-tickets expands further from 12th July!
Following the announcement of a major ticketing review for the West Midlands, Regional nBus and nBus +Metro tickets will be replacing the multiple Diamond West Midlands ticket variations previously available in our App.
For customers already registered with us and purchasing Diamond West Midlands, Value or Sandwell & Dudley tickets, you can easily use your account to purchase from the new nBus range, from Monday.
Your new nBus M-ticket will work in exactly the same way on Diamond Bus services, where you can simply scan your M-ticket to travel. The great advantage of nBus on the Diamond App is that you can also use these across other participating operators across the West Midlands County.
This means you can buy your nBus ticket on the Diamond App regardless of what services you want to travel on… it is as simple as… One Ticket…Any Bus…Any Day…Any Time!
If you are new to the Diamond App, its quick and easy to register, then simply set your region as West Midlands and our new nBus range will be in the ticket section for you to purchase. More information about using Diamond M-tickets can be found here
If you are travelling on the Diamond Bus Network, you can get even more connected with the Diamond App and track your bus or plan your journey. 
Download the Diamond App today...
Please note: nBus QR Codes do not scan on all operators services (such as National Express), however they are accepted and should be shown to the driver to inspect visually when boarding. Please check with your driver when boarding whether to show or scan your nBus M-ticket.