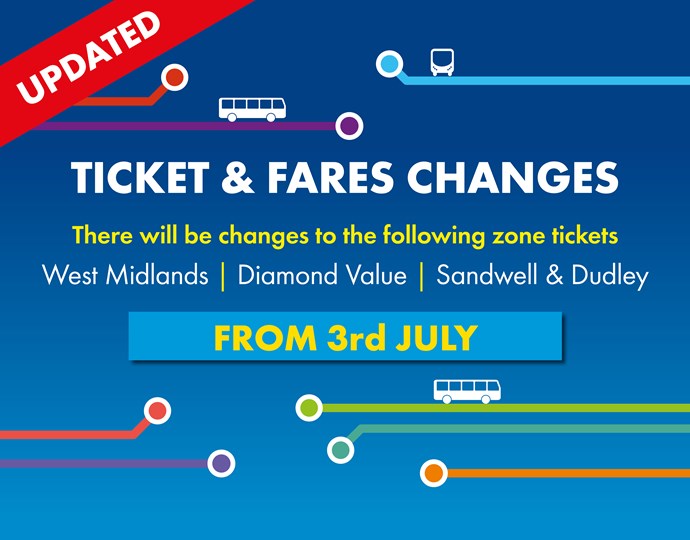 Changes to tickets and fares in the West Midlands Region
21 June 2023
One Ticket, Any Bus, Any Day, Any Time
Diamond Bus is supporting the news announced on Monday 27th June that there will be major simplification of how bus ticketing works in the West Midlands  – allowing customers to use any ticket on any bus service across the network
Transport for West Midlands and Bus Operators across the area have been working in partnership to agree a region-wide commitment to simplify the range of ticket available and have agreed that own-operators bus tickets will be replaced by nBus Multi-Operator products. From 3rd July, the sale of single operator only tickets will end and, with the exception of some single and cross boundary tickets, all bus tickets and passes will become nBus, giving customers more flexibility to travel on any bus, at any time, anywhere in the West Midlands County regardless of the operator. 
This means that there will no longer be a premium price attached to travelling flexibly on any operators bus service, and although some passengers may see some cost increases due to some products being removed, Bus fares across the West Midland region are still among the lowest in the UK.
Additionally, Diamond Bus are pleased to announce that we will also continue to take part in the Government funded £2 fare cap scheme until the end of October 2023, So you can still travel on the majority of eligible services for just £2 per trip. Making bus travel even more accessible for everyone.
nBus also now available on the Diamond Bus App
Diamond Bus are also pleased to announce that from Monday 3rd July, nBus - the West Midlands Multi-Operator ticket will be available to buy on the Diamond Bus App.
Regional nBus and nBus +Metro tickets will be replacing the multiple Diamond West Midlands Zone ticket variations previously available in our App.
For customers already registered with us and purchasing Diamond West Midlands, Value or Sandwell & Dudley Zone tickets, you can easily use your account to purchase from the new nBus range, from Monday.
Your new nBus M-ticket will work in exactly the same way on Diamond Bus services, where you can simply scan your M-ticket to travel. The great advantage of nBus on the Diamond App is that you can also use these across other participating operators across the West Midlands County. This means you can buy your nBus ticket on the Diamond App regardless of what services you want to travel on… it is as simple as… One Ticket…Any Bus…Any Day…Any Time!
If you are new to the Diamond App, its quick and easy to register, then simply set your region as West Midlands and our new nBus range will be in the ticket section for you to purchase. More information about using Diamond M-tickets can be found here
If you are travelling on the Diamond Bus Network, you can get even more connected with the Diamond App and track your bus or plan your journey.  Download the Diamond App today.
Frequently Asked Questions
We understand that this announcement will raise a number of questions for Diamond Bus Customers, therefore please find some guidelines below:
Why are these changes happening?
Bus fares in the West Midlands region have remained very low in comparison to other major cities in the UK, with some fares frozen since 2017. In the past three years alone many operating costs such as fuel, electricity, parts and labour have increased and unfortunately patronage remains at around 90% of what it was before the pandemic. Therefore, In order to protect the network, bus fares need to increase. By working with other operators and TfWM to remove some of the Lower Fare Zone options and to allow multi-operator use where prices will increase we are building a stronger more flexible network for customers.
We want to encourage more passengers to continue to build our bus network. It has been widely recognised for some time that the complexity of the Ticketing  schemes across the Midlands is a barrier to people understanding and using the bus network, therefore these changes will be a huge leap forward for the area in making bus travel more accessible for new customers. As part of the Bus Alliance, Diamond Bus has been working with TfWM and other operators to move forward with these plans to improve the network.
Which tickets will be affected by these changes?
Please click here to see the list of products affected by these changes.
What will happen to my existing Diamond ticket?
During the transition period, existing Diamond Bus tickets will remain valid for travel on Diamond services only, and from 3rd July any new tickets and passes purchased will be nBus tickets. Diamond will continue to sell nBus Day tickets onboard our buses which you can buy using cash or contactless payment. 
You will also be able to purchase selected nBus tickets on the Diamond Bus App from this date too. These will replace Diamond Bus West Midlands products and will be valid for travel on any operator services across the West Midlands County. Additional nBus ticket options will be available on Swift Smart cards and can be purchased from www.tfwm.org.uk
Other operators existing own tickets will continue to be valid on their own services only until the expiry date. The good news is, that from your next purchase all operators tickets will also be replaced by nBus tickets. 
Any nBus tickets purchased via National Express buses and the NX app will continue to be accepted on our services as normal. Some National Express DD products which are loaded onto Swift Cards will be accepted during the transition period, our ticket machines will be altered to accept scanning of these products.
On West Midlands Partnership Routes 31, 32, 40, 42 & 43 NX and Diamond will continue to accept each others existing tickets as per the current partnership agreement for up to one month (until 4th August), after this period all tickets and passes should be nBus products.
What will happen on Cross-Boundary Services?
nBus tickets are valid only within the West Midlands County area. If you are using a Diamond Bus service for cross-boundary travel into Worcestershire or other surrounding shires, a Diamond Bus Network Zone A ticket will still be required for your full journey. Diamond Network tickets will not be valid on other operators services in the West Midlands area. Other operators cross boundary tickets will also not be valid on Diamond Bus services. Therefore if you are using multiple operators buses for cross-boundary travel, separate tickets will continue to be required as per the current arrangement.
Using your new nBus ticket on the Diamond Bus App:
nBus tickets purchased through the Diamond Bus app will be valid on other operators services. On some operators buses you may be able to scan your QR code on their services to travel. On some operators, including National Express, you will need to show the driver your live and activated m-ticket when you board for them to check its valid. 
If you are using the National Express app – tickets showing the purple nBus logo will be accepted on other operators services. These currently do not scan on other operators ticket machines and should be shown to the driver to check they are valid.
Can I still use Tap&Go?
Tap & Go / fare capping options are still available on Diamond and other operators services, however our electronic systems are not currently compatible for cross-operator capping. Therefore, if you do Tap on and off on multiple operators services you will be charged twice. If you intend to travel on more than one operator services, we recommend using a Swift Go Smart Card, which will cap fares at either 1 day, 3 days or 1 week across multiple operator services. 
If you intend to only use Diamond Bus services, Tap&Go is still a great way to pay only for the journeys you make on our buses. 
What buses can I use nBus tickets on?
For a list of operators who accept nBus, please visit tfwm.org
If you still have any queries regarding these changes please email comments@diamondbuses.com
Article updated 28th June 2023.